Meals at Dormy
are amazing!
point 01

Daily meals are cooked by the house matron

Meals at Dormy are hand-prepared with love by the house matron, based on recipes devised by a professional registered dietician. You can enjoy breakfast and dinner that combine home-like comfort and nutritional balance. Our commitment to hearty cooking supports students' healthy day-to-day lives.

point 02

Delicious and nutritionally balanced menu created by a registered dietician

The menu is designed by a registered dietician, taking the students' views into account. It is worked out to make the meals not only delicious but also nutritionally balanced so that you can lead a healthy life. The menu offers a wide variety of dishes so that you never get bored of eating every day.

point 03

Commitment to food safety,
freshness and variation.

We are committed to using only in-season ingredients so that you can enjoy delicious foods at their peak. Ingredients are delivered to each Student Housing every morning in refrigerated vehicles. This ensures freshness and preserves the goodness of the ingredients. We are also particular about using transportation with freezing and cold storage technology to deliver good ingredients in the freshest condition.
Delicious every day! Menu examples
Live-in husband and wife manager and matron
provide support
point 01

Providing support
for your first solo living

The manager and matron live on-site at Dormy to offer support, so you can live with peace of mind. They will always watch over you closely, accompanying you to the hospital when you are ill or receiving packages while you are out. The rooms also have self-locking front doors, and crime prevention seminars are held to ensure full security.
Strategies for
Safety and Security
Self-locking doors

Surveillance cameras

AEDs

Crime prevention seminars
On-call 24 hours a day,
365 days a year!
Noguchi Doctors Hotline
The Noguchi Doctors Hotline is a service with professional medical staff who can address health concerns and anxieties for Dormy residents.
*The Noguchi Doctors Hotline is operated by doctors and nurses registered with the Noguchi Medical Research Institute, an American foundation.
Poor health
Looking for a hospital
Stress, etc.
Fully furnished and equipped means
you can start living
right away.
point 01

You can lay out your room any way you like!
Make your room uniquely you.

The rooms are fully furnished with all the furniture and electrical appliance you need. This means you can enter the building with just one bag and start living right away, and it is economical because you will not need to pack much to move in.
Fully furnished
with all you need
Air-conditioning unit

TV cable outlet

Wi-Fi

Bed

Curtains

Desk and chair

Closet

Bookcase

Lighting fixtures

Desk lamp

Microwave oven

Refrigerator
Enjoy spending time with friends
in the well-equipped
common room
point 01

Everyone becomes friendly with each other in no time

Dormy has well-designed shared facilities such as a kitchen, a dining room, and common baths. These shared facilities are not only convenient but also places for socializing with friends.
Share with everyone! Shared facility examples
Dining room

Kitchen area

Common baths

Laundry room
We have asked a manager and matron
about what they always keep in mind!
Mr. and Mrs. Hirata, Dormy Hyakumanben
Building relationships where students feel easy
confiding at any time.
I always tell them not to hesitate to speak to me if they feel sick, even if it's late at night or early in the morning. We eat the same meals as everyone else every day. We sleep and wake up under the same roof and eat the same food, so there are things we understand.
If we have any concerns,
we discuss them and swap information.
We subtly observe them greeting us when they leave or return, whether they are eating properly, and so on. If something is concerns us, we talk about it when we have a break and swap information. We see ourselves as everyone's parent figures here.
There are plenty of social events
throughout the year to strengthen personal ties!
Dormy offers many house-wide joint events and house events
based on the concept of connecting, learning, and having fun.
First is the spring welcome event for freshmen. You will get to know your fellow residents at once.
Many residents also participate in other events, including five-a-side soccer tournaments, baking events where everyone makes bread and pastries, and the Arashiyama-River Hozu Event, where residents take a boat ride down river Hozu, which is unique to Kyoto.
Why don't you enjoy socializing with friends from different schools and environments
through the events and expand your personal connections?
April
Freshmen Welcome Event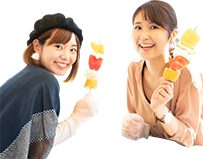 August
Arashiyama Hozu River Event
Dormy Cup (five-a-side soccer tournament)
November
Baking Event
Halloween Party(Kansai area event)
December
Christmas Party