Making connections with people
during your time in Kyoto
will be your treasure of a lifetime.
You will make friends and spend enjoyable times together at Dormy.
The experience you gain here will give you the invaluable asset of "human connection."
A new life at Dormy.
It could be a life-enriching choice.
What sets Dormy
apart from other student dormitories?
Although Dormy is categorized as student housing, it is slightly different from those generally imagined.
While maintaining the advantages of student housing, it has overthrown old ideas and incorporated attractive new features that are in tune with the present. That is Dormy.
General image of
student housing
Double-occupancy rooms, dirty,
exacting rules, strict hierarchy.
They often give the impression of a
"club dormitory."
Comments from
Dormy residents
Private rooms ensure privacy
Meals are delicious
It's fun being with friends
It's freer than expected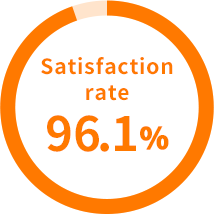 Let's compare!


Life in

Dormy


vs


a condominium




With Dormy
With a condominium
or an apartment
Compare the food
With Dormy
With a condominium
or an apartment
Breakfast and dinner are included


Establish your daily rhythm with breakfast and dinner.

Hot meals with an emphasis on hand preparation


Always fresh. Providing hot, home-style meals.

A nutritionally balanced menu


A nutritionally balanced menu designed by a registered dietician.
Meal times tend to be irregular


You might skip breakfast or eat at irregular times.

More likelihood of eating store-bought meals.


More eating out and making do with convenience store boxed meals.

Eat whatever you want, as much as you want.


You will need to think properly about nutritional balance.
Compare safety and security
With Dormy
With a condominium
or an apartment
Make friends quickly


You will live with friends from various schools. You will find friends in no time!

Live-in manager and matron mean peace of mind


They offer various support, such as in case of illness or receiving packages in your absence.

Self-locking front doors


Fully secure. You won't have to worry about living alone for the first time.
Enjoying freedom? Lonely on your own?


While you have freedom, you will feel a bit lonely being on your own in an empty room.

You will have to deal with everything yourself


What will you do if you fall ill? What will you do if you are not in to receive a package?

Some properties do not have self-locking doors.


The level of security varies from property to property.
Compare the rooms
With Dormy
With a condominium
or an apartment
Fully furnished with what you need, including a bed and a desk.


You can start a comfortable new life immediately after moving in.

Convenient facilities for living alone, both in your room and the building.


The rooms have separate baths and toilets, and some properties have common baths and laundry rooms.

Wi-Fi-ready


The rooms have Wi-Fi routers. They make studying and pursuing hobbies a breeze!
You will have to provide all household items


It's quite a task to get everything in place.

A studio room with a bath, a toilet, and a kitchen.


You are free to use every facility in your room.
You have to do all the cleaning.

Most properties require you to subscribe to the internet yourself.


You will need to select a provider, request installation… Setting up an internet connection involves many steps.
Compare the facilities
With Dormy
With a condominium
or an apartment
You can keep your living expenses down!
Monthly expenses
Rent and fees
Approximately 79,200 yen
Meals
Included
Communication facility fee


(internet charges)

3,960 yen
Internet charges
Included in the rent and fees
Gas and water
0 yen
Electricity
Approximately 7,150 yen
Total
Approximately 90,310 yen
You will spend money on this and that…
Monthly expenses
Rent and fees
Approximately 55,000 yen
Meals
Approximately 35,000 yen
Communication facility fee
n/a
Internet
Approximately 3,000 yen
Gas and water
Approximately 5,000 yen
Electricity
Approximately 3,000 yen
Total
Approximately 101,000 yen
Meals expenses are calculated based on 25 days, with 500 yen per breakfast and 900 yen per dinner.
For your peace of mind in choosing Dormy
Kyoritsu Maintenance supports students in their daily lives through the operation and management of dormitories so that students can enjoy productive student life.
All student dormitories featured on this website are operated and managed by Kyoritsu Maintenance Co., Ltd. The Company has developed its business focusing on dormitories for students since its establishment in 1979. We currently operate dormitories in major cities throughout Japan, serving approximately 20,000 students. We have a proven track record in operating university dormitories, and we strive to manage dormitories that provide a safe and secure choice for students.